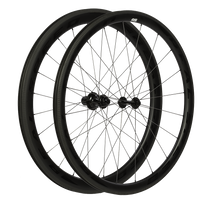 5/6 Carbon Clincher Wheelset
The first generation Realspeed RS 5/6 are fast wheels. The new Realspeed RS 5/6 are even faster. Everything we have learned about what makes for a set of fast wheels that can excel in a multitude of different road riding situations are embodied in these wheels.
RIMTYPE: Clincher / Tubeless Disc Brake
RIMDEPTH: 50mm/60mm
RIMWIDTH: 28mm
INTERNALRIMWIDTH: 21mm
HUBMODEL: Realspeed JPN SS, 6 Bolt Rotor, 12mm thru axle, 110mm front, 142mm rear
HUBCOMPATIBILITY: Shimano/Campy 9, 10, 11
SPOKECOUNT: 24/24
SPOKES: Spaim CX-Ray Race Spokes
WHEELSIZE: 700c WHEEL SET WEIGHT: 1540g
RECOMMENDEDTIRESIZE: 28mm
MAXIMUMTIREPRESSURE: 100psi
MAXRIDERWEIGHT: 250lbs
FEATURES
Similar to the RS ¾, the new RS 5/6 feature staggered rim depths, which delivers an optimized balance of aerodynamics and overall stability. The front and rear wheels react differently and that is primarily due to how they are exposed to the wind, along with the front wheel being hinged and the rear being fixed. The yaw angles which the front wheel are subject to are vast and change more frequently. Through our development, we have discovered that a shallower front rim, and deeper rear rim is most efficient.
The external widths of the RS 5/6 are 27mm for the front and 25mm for the rear. This combination is set for optimal aerodynamic integration with a 25mm-28mm tire. The rim width also plays an important roles in maximizing the performance of the tire, providing more comfort, reduced rolling resistance, and improved grip.

What distinguishes the 3/4 from the 5/6 is the increase in profile. The result of this change is a set of wheels that propel with great ease, and have greater velocity at lower yaw angles. Surprisingly at greater yaw angles this profile pairing of 50mm and 60mm keep turbulent air to a minimal. The larger profiles also aid in a stronger more responsive wheel that can efficiently lay down the power to the road when needed.
VOLCAN TECHNOLOGY:
The amount of effort we placed on improving aerodynamic efficiency we equaled to improve braking performance. For the new 3/5 and 5/6 Wheelsets, we chose to build the rims using prepreg carbon fiber, which is carbon that already has a high TG resin impregnated into the material. This allows for more precision when shaping the rim, reducing the amount of material and resin being applied to reduce weight and heat retention. Our New VOLCAN braking surface uses a Basalt finishing treatment, which is a naturally fire-resistant hard and dense volcanic rock to minimize heat buildup and improve overall stopping performance.The result is a rim that is provides a high rate of heat dissipation under heavy braking loads, maximizing the performance of the wheel.
STAGGERED RIM PAIRINGS
The new RS 5/6 wheels feature staggered rims. The depth of the front and rear wheel are different, we Identified where improvement can be made to the overall shape of the rim to enhance the efficiency when yaw angles open up.
ROCK SOLID RELIABILITY
Singular Moulding, our rim is made by using one piece construction. No partitions, no seams. This maximizing structural integrity.The RS 5/6 also features an asymmetrical profile which allows for equalized spoke tension and creates a stronger wheel that stays true. Furthermore, angled spoke holes at 7 degrees allows the nipple to pull straight in line with the spoke for reduced stress. This results in fewer broken spokes and nipples.
HAND BUILT
As always, all our Realspeed wheels are hand built in Canada with precision and great attention to detail. We use Belgian CX Ray spokes and nipples, along with your choice of Realspeed Japanese bearing hubs, or DT Swiss 240s hubs. All our wheels are built and quality control tested to the highest standards, ensuring that you are getting the perfect set of wheels that will provide many seasons of reliability and performance.